Anuved Herbal Uphaar Gift Set 
Anuved Herbal Uphaar is an Ideal Gifting/Corporate Gifting option this festive season 

It contains Chandanam, Aloe Vera & Kesar Soaps (100grams each * 03 Soaps)
ANUVED CHANDANAM - Chandan (Sandalwood) has been an essential ingredient of all pujas. Anuved Herbal Chandanam (Sandalwood) Soap enriched with pure sandalwood oil stores the ayurvedic essence of this organic ingredient. The mesmerizing aroma awakens one's body & soul and composes the mind giving a profoundly relaxed experience.
ANUVED ALOE VERA - Motivated by the traditional Indian Healing Wisdom, our herbal Anuved Aloe Vera soap enriched with Vitamin E rejuvenates and brings back the lost glow of your skin. It has medical property of being anti-allergic which restores the wellness of the skin. This harmless organic silent healer contains Indian herbs extracted through the ayurvedic method of slow heating and is chemical free. 
ANUVED KESAR - Kesar [Saffron] is inherently rooted in India's anciently approach to wellness. The use of Ayurvedic method of slow heating combined with the goodness of saffron and the nourishment of cow milk makes our Anuved Herbal Kesar soap a must for every morning organic bath. This creamy and soft feel with mesmerizing fragrance leaves your skin glowing and harmless. 
All our products are 100% herbal, Eco-friendly and free from harmful chemicals, sulfates, phosphates, paraben, and animal fat. Our products are totally safe for your skin as well as the environment.

Manufactured and Packed by:
Neema Soaps : 27/4 , Village dahivali ,Pali Phata,Khopoli (MH) -410203
Beautiful hygienic soap
They are very nice. I really like it.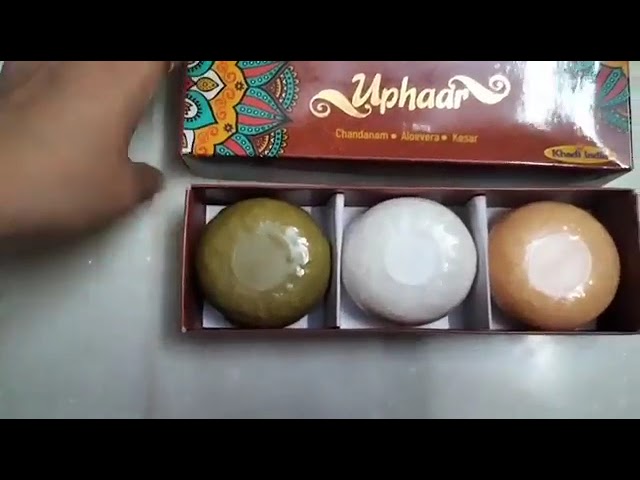 It's a nice product.
Good product and soap is very good for skin.